While America celebrated Labor Day, this happened:
As Ukrainian leaders warned on Monday of "a great war" with Russia, NATO leaders meeting in Wales this week were expected to endorse their most concrete response yet to increased Russian military intervention in Ukraine: establishing a rapid-reaction force capable of deploying quickly to Eastern Europe, officials of the alliance said.
This may one of the most important events in recent history.. 
Drums of war are beating louder.. Hear them in the distance?
For some, they are touching close to home with this news..
Labor Days of the future revealed
Put this one in the 'creepy' category. At least for me.
Today, during a Labor Day parade in Michigan, the state's Governor, Rick Snyder, walked the route—with a robot.
This is the way the AP captured the moment for all to remember: 
ST. IGNACE, Mich. (AP) - Tens of thousands of people have taken part in the Labor Day walk across the Mackinac Bridge and they were joined by one robot.

Gov. Rick Snyder led the annual trek Monday across the 5-mile-long bridge linking Michigan's two peninsulas. He walked with a robot constructed for the occasion by the FIRST robotics team from Macomb International Academy in the town of Armada.

FIRST is a program that encourages young people to learn about science and technology.

Several of the program's students, teachers and mentors joined Snyder and the robot, which can travel up to 10 mph and is known as "The Pi Guy."
The fact that Labor Day was the decided moment to introduce us to robot is a little strange, especially given some important facts that most people aren't realizing. We have been hearing lots about robots lately—they are taking manufacturing jobs and have been doing so for quite some time.  They are also showing up in restaurants lately.
And now they are showing up on Labor Day—the honored moment when we celebrate work week limits and equal pay rights. And robots .. here to take your labor job out from under your human feet.
But.. the The Pi Guy looks fun, at least..
That would be unbelievably tragic for someone with so much energy and charisma..
Yesterday, Rivers' daughter said fingers were still crossed for her mother..
I still can't get the thought out my mind: The night before, she joked that she could go at any moment.. the fact she's not physically gone but potentially mentally gone is beyond tragic in its implications.
Francis vs the Sisters of the traveling nonhabits
The Vatican has declared war on nuns!
So says TIME magazine (and lots of other religious insiders for some time) .. 
Jo Piazza from TIME writes, 
Most people don't know about Sister Nora Nash, a Franciscan Sister who lives just outside of Philadelphia. As her order's Director of Corporate Social Responsibility, Sister Nora wakes up every single morning determined to make corporations more responsible to the human race. Sister Nora and her assistant director, Tom McCaney have taken to task the grocery store chain Kroger over the rights of farm workers, Hershey's chocolate company over child labor, McDonald's over childhood obesity, Walmart on raising their minimum wage and Wells Fargo over predatory lending practices. Nash wakes up every single morning determined to make corporations more responsible to the human race. Then she follows through on it.

For more than four decades Sister Jeannine Gramick has been tireless in her fight for gay rights through her organization New Ways, despite coming under intense scrutiny from the Vatican.

Sister Dianna Ortiz made headlines in 1989 when she abducted, tortured and raped while working as a teacher in Guatemala. After living through that horror, instead of allowing herself to sink into a terrible depression, she headed up an organization to help thousands of torture survivors around the globe find the will to keep living.
The Catholic Church isn't used to strong women. Or progress.
I recall many strong nuns as I grew up with them as my teachers in grade school—I still have nightmares from time to time about them yet. With the exception of a nun we wisely nicknamed "Sr. Bitchass" in high school, most of my early years were filled with fear of rulers and hair pulls in my early schooling. But damn, I could do sentence diagramming like nobody's business.
But those sisters' strength was not the same as the nuns of the 21st century.. And the Vatican is a little worried about the progress taking place before their eyes..
A volcanic super eruption at the Yellowstone National Park is possible but will not be catastrophic. Ash deposits from the eruption may impact communications system, aviation and more.
AND MORE:
Scientists estimate that a super eruption may create an umbrella ash cloud, which can impact near as well as far away cities in the U.S. Using a so-called program Ash 3D, USGS researchers were able to estimate that cities within 300 miles from Yellowstone National Park may get covered by up to three feet of ash. Cities beyond 300 miles from the National Park may experience a few inches of ash while cities as far as New York may be covered in just less than an inch of ash.
But nothing .. end of the world-like to worry about. No apocalypse.. The USGS says—this after years of public worries that we would be doomed if Yellowstone went again, something by the way it is overdue for.
Here is what the NOT THE END OF THE WORLD would look like:
A super eruption is expected to disrupt normal life of people but it will not be apocalyptic. Water and sewage system will be blocked due to ash deposits. Communications system across North America will be obstructed. Roads may get slippery due to ash, which will make it difficult to drive. The aviation industry will also be impacted making it difficult for people to transport from one city to another.

A super eruption at the Yellowstone will make the air unsuitable for humans and animals to breathe. The crops in fields will be destroyed and the land may get unsuitable for agriculture.

Scientists say that life in North America will get affected in case a volcanic super eruption occurs, and it may take time, effort and money from government agencies to get everything back to normal.
Seems to me that it could be pretty life altering, and in a sense life ending in some instances. 
And even weirder: All of these stories lately about Yellowstone, including melting roads and running bison. Seems to be a mental preparation for, oh.. well. Probably nothing. 
Move on.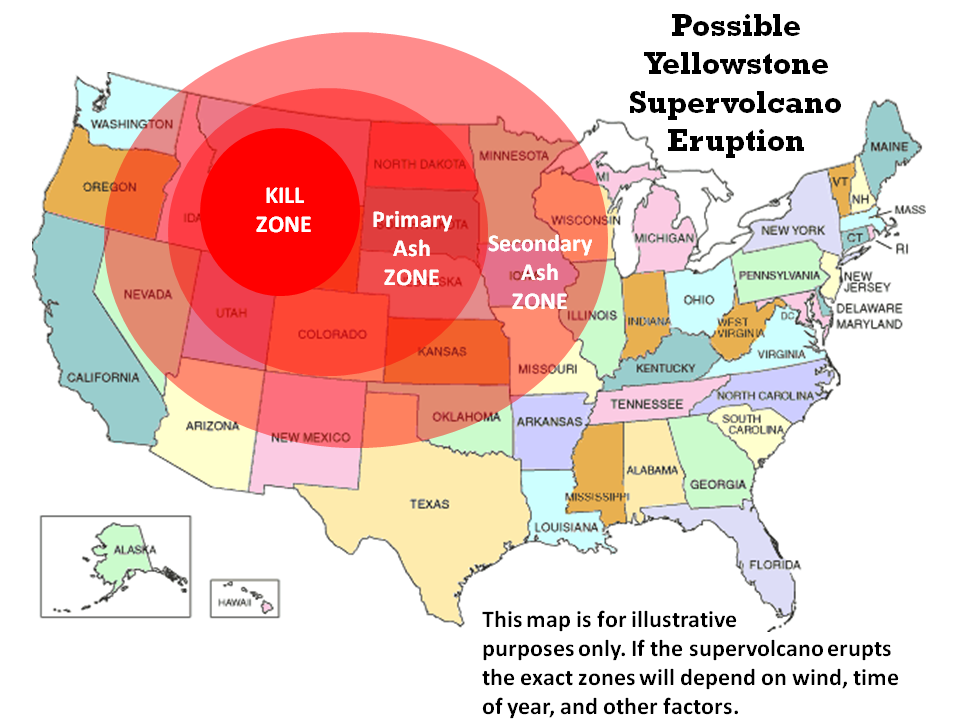 A significant aftershock from last weekend's magnitude-6.0 earthquake has rattled Northern California's wine country. The U.S. Geological Survey says the magnitude-3.2 tremor struck 5 miles south of the city of Napa just before 2 a.m. Sunday.
They aren't done rockin and rollin yet, I feel..
You will take your medicine. And you will like it..
AP reports:
The family has criticized Britain's health care system, saying he needs an advanced treatment option called proton beam therapy and that it wasn't being made available to him.

King's parents were arrested Sunday in southeastern Spain after a European arrest warrant was issued by Interpol at the request of British police. Their son is receiving medical treatment for a brain tumor and after his parents' arrest he was admitted to a Spanish hospital.

King says the authorities are "the ones who are cruel, because they have taken poor little Ashya, who is dying of a brain tumor, and they won't let the parents, my son and daughter-in-law, they won't let them see him at all."
The world is watching. Precedents always are set, even when you least expect them to be..
Storm from the Cloud
A few years ago, I got into a deep conversation with a techie about the coming of the 'cloud' computing. He didn't like it, not one bit. His doubts about the cloud stemmed from his paranoia over big government spying, but more importantly, hackers hacking.
This weekend his nightmare vision he relayed to me came to fruition. Too bad the Hollywood elite who have their naked bodies plastered all over the internet never talked to my lowly paid computer friend. They may have thought twice..
A hacker published Jennifer Lawrence nude on 4CHAN today.. yes, 4chan, the site that constantly guides the internet into new territory.
But even more alarming; The hacker claims to have more private pictures from more than 100 A-list celebrities who apparently have been busily putting nude images of themselves into their safe clouds..  This from Josie Ensor in the London TELEGRAPH today:

An anonymous hacker reportedly gained access to private photos on the Hunger Games actress's phone, and those of more than 100 others, after a leak on Apple's online storage system iCloud.

The 60-odd pictures of Lawrence in varying stages of undress were then posted on the bulletin board website 4chan.
More than 100 A-list celebrities are alleged to have been targeted, including reality TV star Kim Kardashian, singer Rihanna, models Candice Swanepoel, Cara Delevingne and Kelly Brook, and TV host Cat Deeley.
This story has big ramifications for everyone.
First off, it compels me to believe that my no-named IT geek knows what he's talking about. He hates the cloud. I can see why.. 
And secondly, this shows us how unsafe cloud technology is. 
Yes, hard drives can be hacked and attacked. But for God sakes, you still have a plug and a hard-wired device that is your personal possession. When you store in 'the cloud,' it's up there.. in the air.. above your head and over the hills. Far away. Cloudy days..
And finally, the most alarming part of the cloud: The cloud never dissipates, apparently. 
One of the hacked now revealed nude celebs: FINAL DESTINATION star Mary Winstead. She tweeted this:
Knowing those photos were deleted long ago, I can only imagine the creepy effort that went into this. Feeling for everyone who got hacked.
Deleted long ago. But still around. Never gone. 
This is now being called the biggest celebrity hacking scandal. Ever. Some stars say their lawyers will be taking action on anyone who re-posts the naked images.. Twitter is busy suspending accounts of those who publish.. 
Jennifer Lawrence said tonight: "It's so weird and hard how people take your privacy away from you."  Yes, indeed.. but when you trust cloud technology, you're agreeing to allow your privacy to be entrusted to shaky technology to being with.. 
The clouds are forming.
A storm is brewing..
This sadly is just the beginning of data never being secure, safe, or sound in the high sky.
Remember, during that horror movie you're watching, it is all just make believe.
If you still don't believe it, consider this: Behind the scenes photographs of horror flicks .. Hannibal Lector eating not flesh, but a french fry.. Michael Myers enjoying a Dr. Pepper.. And yes, even the gang 'chillin' with Freddy K..
A lot of the behind the scenes images are fun and frivolous, but one stood out to me as a little more painful, a little deeper: Heath Ledger, alone, walking with the JOKER mask in hand.
A little interesting side note on that Joker mask used. In the 1960s, Ceser Romero starred in one of the BATMAN shows, called THE JOKER IS WILD. During a scene in the program, Romero is wearing that same clown mask before it is taken off and his true identity is revealed to the viewing television audience. The homage by the use of that mask was to Romero's version of the villain.. 
The BUZZFEED list   is a great way to pass the time, have a few chuckles, and see some irony. There's even an image of Linda Blair next to her robot double—the one whose head turned around while green vomit spewed.
But sorry to be the buzzkill on the fun BUZZFEED lst, but the image of Hedger is a true reminder of the 'behind the scenes' hell that often takes place in the mind of an actor.
As a matter of fact, in 2013, we saw how immersed Ledger became in the Joker behind the scenes when his haunting private diary was revealed. And yes, some even hinted as "satanic influences of the JOKER" as the blame for Ledger's death, and others spoke of a "DARK KNIGHT curse" that probably isn't true, but certainly is thought provoking to consider. 
Nonetheless, there's lot of behind the scenes images we don't see. Wish we could.
But until then.. who's that Joker?
Found this surprise at my house today. Looks like a car stole my chance to meet it in person. Thank God.
The annual tradition: The playing of the Famous Last Words song by Billy Joel.. I have linked up this song yearly this weekend for as  as I have had a web presence.. It's doubly fun this time of year: Autumn is in the air, and it's my birthday. But as I get older and older, each year's birthday aspect becomes less enjoyable than the previous 12 months .. 
I am 34 now.. the show's not over but it's 'halfway' home for my caboose. 
The most poignant words, in my opinion , of this song (besides 'comfort in a coffee cup, apples in the early fall') are these: 'They swept away all the streamers after the Labor Day parade. There's nothing left for a dreamer now only one final serenade.'
With summer ending.. and the cold winds ready to invade, I wish some streamers would just be left on the streets.. a little longer.. another day.
Good evening. Or morning. Or goodnight.
Getting freaky..
First those fake Fox stories of an attack. Then warnings of an attack. And now a Saudi king sharing news that it will happen within a month…
blog comments powered by

Disqus